Race insights as experienced and etched on the minds of the bikers.
THE DREAM OF FEELING LIKE A HERO CONTINUES
This is the tenth edition of our race. Ten years of dreams cultivated by 30,213 participants in the world's toughest mountain bike marathon to feel "heroes for a day" as in the song by David Bowie. We, the organisers, have understood the true meaning of HERO in recent years, the one printed on the exhausted faces of those who cross the finish line: it is a pain that oozes from the muscles but that turns into an unfathomable and intimate happiness for having made it. It is a challenging dimension for those who pass all year round sitting behind a desk or immersed in their daily work. The BMW HERO produces strong emotions, is a sort of return to nature and the primitive sensations of body and mind. In short: fatigue, sweat and adrenaline. Emotions that we then carry within us, because every day we have a challenge to conquer, a descent to face and a goal to achieve.
Yes, the BMW HERO is a marathon different from all the others. Not only for the extremely tough task that makes the legs shake, even those of the 'professionals' competing. This is one reason which makes the race really "epic", but also and perhaps above all, for the following the event and the race has been able to develop and maintain over the years. Thanks to a highly motivated organisational machine that studies every detail and bases its strength on over 500 volunteers from the Dolomite valleys.
After ten years we can say that the BMW HERO has become a world icon of two wheels, the scene of challenges that have marked the history of the mountain bike movement, and today is ready for new goals, to spread the spirit of the HERO in the new "Hero Series", and which in turn will reproduce its spirit in other fascinating places on the planet, following on from the experience in the Dolomites, an experience or set of experiences which have made the race what it is today.
It is an invitation to all bikers to start dreaming of new goals to continue to live on emotions: strong emotions branded HERO.
Gerhard Vanzi
Founder & CEO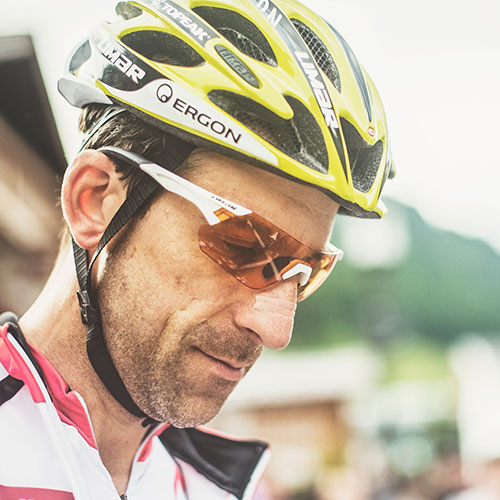 HERO TIMES: ALBAN, WHAT DO YOU REMEMBER FROM THE WCM TITLE IN VAL GARDENA?
ALBAN LAKATA: Perfect organisation, a wonderful natural setting, a taxing route and the great atmosphere in our team. I will always treasure these memories.
HT: WHAT IMPRESSIONS STUCK WITH YOU?
AL: I must confess I have somewhat fallen in love with Val Gardena. The Sella Massif and the leisurely Pass roads slowly grew on me. What is new is discovering the locals' hospitality and the success I've come to experience time and again.
HT: ANY SPECIFIC EVENT WHICH STANDS OUT?
AL: I'll never forget my arrival and the evening award ceremony.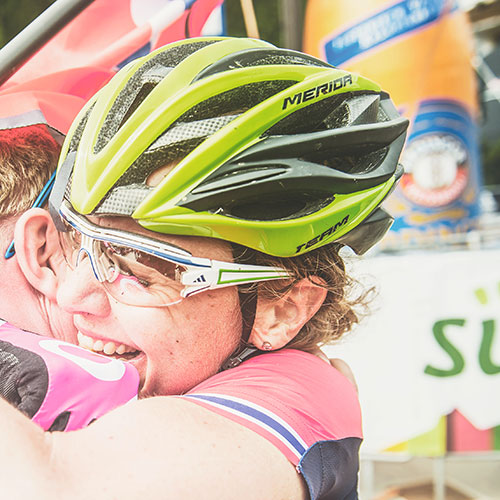 HERO TIMES:What memories do you have one year after your WCS gold medal at the hero 2015 in Val Gardena/ Groöden?
GUNN-RITA DAHLE FLESJÅ: It will remain one of the clearest in my mind for the rest of my career because the course was just outstanding in so many ways, the natural landscape was stunning, and my family and close friends were there with us to celebrate a great performance and an unforgettable gold medal. It was also so special because it was our 10th World Champion title. We would love to come back next season.
HT:Are there any memories in particular you'd like to share?
GR: A stunning natural landscape ideal for biking and hiking. A week's hiking holiday.
HT: What are your plans for the olympics 2016 in Rio De Janeiro?
GR: To give my best performance ever on the bike and win a medal.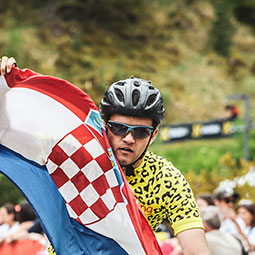 HERO SUDTIROL DOLOMITES: MORE THAN SPORT. A REASON TO LIVE
The HERO Südtirol Dolomites was not just an athletic achievement for Nikola Vrlazić, who stumbled upon the race by chance while browsing online: it is behind an important change in his life. Twenty-nine years old, Croatian, Nikola believes being a HERO does not only mean wearing a finisher medal – it means having 'made it'.
Not even emails can distort the fact you are larger than life. Words travel through the ether and land, unfiltered and raw, in your inbox. We are talking of Nikola, twenty-nine years old, born and brought up in Slavonski Brod, a small city 200 km from Zagreb whose only claim to fame is that "… footballer Mario Mandzukic was born here." He has always been passionate about mountain biking, even as a child. And his love for the discipline grew alongside him, so much so it became a fundamental part of his life. "I discovered the HERO by chance, on a regular day at work while browsing the Internet: I immediately got bitten by the competition bug."
Nikola's trip starts in September 2018 by acknowledging he is overweight, and his physical condition was not exactly the best. He decided to go on a diet – and go the extra mile while at it: "the HERO motivated me."
In just four months, Nikola dropped more than 30 kg and gained self-confidence in his skills. After weeks of training and sacrifices, and the race being the only objective in sight, he felt ready to face the toughest mountain bike marathon in the world: the HERO Südtirol Dolomites.
Finally, the big day arrived: Italy, the coveted Dolomites. June 2019: he is excited and nervous – and not just for the race. Just a few days before, Nikola's mountain bike had an issue with one of his tyres. No mechanic would have been able to repair it before his departure and, so, he contacted the HERO's Organising Committee to see if they could help him. Nikola recalls the anecdote with a smile: "I would have taken part in the HERO anyway, even with my MTB in those conditions. I had to take part. But, luckily enough, the Organising Committee really pulled out all the stops, putting me in touch with some qualified mechanics who solved the problem. On the eve of the race my MTB was as good as new."
Selva Val Gardena, 16 June 2019, the 10th edition of the HERO Südtirol Dolomites. A good 4,019 mountain bikers from other 40 countries are raring to go. You can feel the adrenaline in the air! Nikola starts with the fourteenth grid: "We all walked, calmly, one grid after the other. I felt like a gladiator about to enter the arena!"
Nikola felt good. He climbed the Dantercepies, focused, motivated by all the effort he had put in up to that day. He overtook other bikers and found himself alongside people who had started significantly before he had. He wanted to make it. He was so sure of himself. "Maybe a bit too much", he admits.
Flying on the wings of enthusiasm and self-confidence, he decided to skip a refreshment station and continued cycling. He did not want to fall back and throw away what he had worked so hard for. "Ultimately, that choice cost me dearly. At the 50th km I was crying like a child due to terrible cramps. I got of the saddle and started pushing my bike. Every step was pure agony."
Throwing in the towel was not an option. Despite the effort, his greatest desire was to complete the HERO. It was not just a mountain bike race: the HERO was a source of inspiration behind a momentous change in his life, despite being told it would not amount to anything – even by some of the people closest to him.
"Crossing the finishing line was emotional. I felt so light, as though I were blessed – I had crossed the finish line of my first race and my first HERO! I was there, with the best athletes in the world. It felt incredible. A dream come true, the best day of my life."