THE BIKE CLOTHING
Setting new standards – the new ALP-X PRO line
---
GORE BIKE WEAR® has been a partner of the world's toughest mountain bike race – the HERO Südtirol Dolomites – ever since it started in 2010. Rapidly changing weather conditions, big differences in altitude and technically demanding sections characterise this race, which demands a lot of the athletes and their clothing. GORE BIKE WEAR® has taken up this challenge and has developed a unique solution for performance-oriented mountain bikers. Thanks to its versatility and flexibility ALP-X PRO is setting new standards since its introduction in 2015.
Steffen Thum, professional mountainbiker and GORE BIKE WEAR® athlete took part in the HERO Südtirol Dolomites 2015 together with team colleague Rémi Laffont. Both were proud and excited to participate in such a prestigious race but they were also respectful. "Hard, harder, HERO Südtirol Dolomites" is a perfect description of the race by Steffen. He knows the challenges only too well, especially the clothing issue. Too light clothes put him in risk of freezing, too warm ones may end up in changing. With the Alp-X PRO range Steffen was all set and was confident about the race: "ALP-X PRO makes me feel good and fast. No worries about my outfit, just racing."
GORE BIKE WEAR®'s new ALP-X PRO outfit system is based on four highly functional and optimally coordinated items of clothing, which are up to the tough conditions of the mountain bike stage racing:
The ALP-X PRO WS SO Zip-Off Jersey is a jacket and jersey in one. The stretch WINDSTOPPER® Soft Shell material and the detachable sleeves offer a high level of comfort and allow versatile use in nearly all temperatures.
The WINDSTOPPER® Soft Shell technology means that the lightweight ALP-X PRO WS SO Shorts provide reliable protection against cool temperatures and wet trail conditions, and can easily be worn over tights or ALP-X PRO 2-in-1 Shorts+. Because they are made of a lightweight material, they will even fit into your jersey pocket.
For the first time ever, the ALP-X PRO 2-in-1 Shorts+ combine the function of racing oriented bibtights with the appearance and protective function of mountain bike shorts, thereby combining the best of both worlds. A genuine innovation and a solution that is hitherto unique on the market.
During a race it is crucial that you have sufficient food and additional equipment on hand. Thanks to the innovative FIRM HOLD Pocket technology, ALP-X PRO Jersey's three-compartment back pocket offers plenty of storage space and will stay in place without sagging or shifting on your back.
Together with selected accessories, the ALP-X PRO products, based on GORE BIKE WEAR®'s tried-and-tested Skin-To-Shell and Head-To-Toe method, can easily and individually be adapted to all weather conditions, always resulting in an innovative and well thought-out outfit system that perfectly equips riders from their first training session through to their final competition.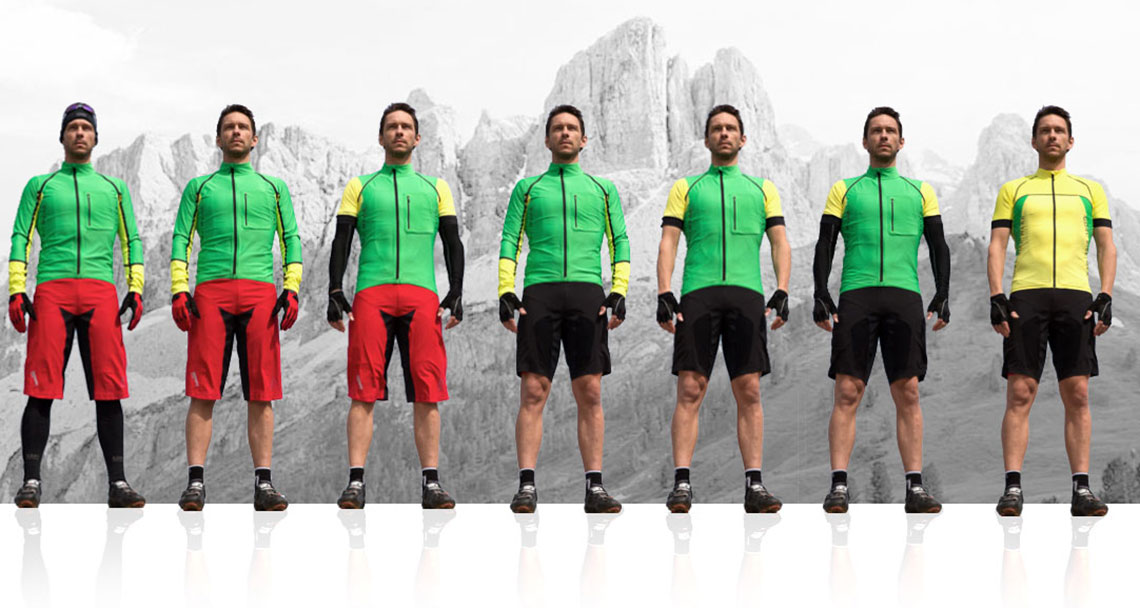 In spring/summer 2016 GORE BIKE WEAR® will once again be demonstrating its status as a leading innovator. Drawing on its experience as a partner of HERO Südtirol Dolomites and other multi-day mountain bike events, the company has designed products that are suitable for the toughest conditions despite being very low-weight. The result is ALPX PRO, a line that means determined mountain bikers will never again have to worry about the right clothing and will be able to concentrate exclusively on racing. This will put ALP-X PRO athletes a wheel's length ahead of everyone else.