Race insights as experienced and etched on the minds of the bikers.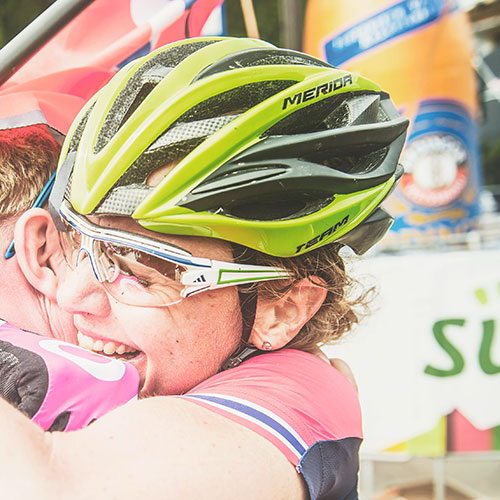 I'm 28 and I work in a discount store part-time. My one and only passion for the last ten years has been mountain biking. I'm intrigued by all races, even the 24 h ones. Then I hear this simple word, 'HERO', and I'm overcome by awe… well, challenge accepted. I ask for some days off at work and as soon as they are granted I start looking for a trainer. This race won't be a walk in the park. After some months with a coach, I'm left on my own, without anyone willing to train me. I've reached rock bottom and I'm terrified of not making it. One day, I drag the chair next to the mtb, collecting dust in a corner. I sit down, and I stare at it. I remembered all those races and falls, all that effort put into it. Alone in my room, I started talking to my Scott, 'Listen now, let's give this a shot. We've got the number bib now, I've already booked and we can't just throw in the white towel now!'
My alarm rings at 5 a.m. on the day of the HERO. Emotions burst forth during the roll call. How embarrassing! As the tears start streaming down my face, I lower my head to hide it. Silly me. We start, and I whisper to my Scott, '… we're at an international event! When would we do that otherwise?' The crowd's support pushes me to new heights. It's exhilarating. Before a descent, I see a guy dealing with a burst tyre. I stop to help him, because he, too, has the right to finish his HERO, but he's riding a 29', while mine is a 26'.
Saddened, I leave. I climb, and race downhill, pushing like I've never done before. At the finishing line, I see my mum waiting for me, embracing the Italian flag; we hug and cry a lot before a girl in local garb hands me a fresh beer. Once at the hotel I lean down and whisper to my Scott, 'Hey, we're two heroes!'
MARIARCANGELA TANGA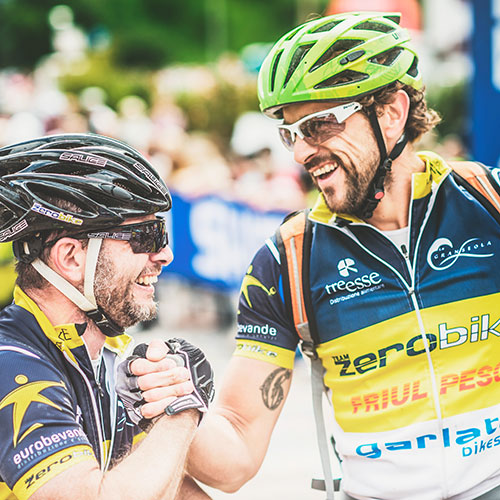 Yes, yes, I hear you: the HERO can be summed up in countless ways. Everyone has their own version, and it's not like one is better than the other. All those stories are simply beautiful – not enough to land on the front cover of the broadsheets though – and the myriad HEROes told here contain a prism of powerful emotions.
My HERO has more than one: 87 km and 4,400 m elevation gain, and all I can think about aren't the hours spent preparing, the taxing training and transfers, but the faces of those 'heroes', strangers I met during those 9 hours in the mountains.
If you could take a look inside my head right now, all you'd see would be snapshots passing by: tired faces, happy smiles. What unites these pictures is the human solidarity behind them. How could I ever forget that one guy who stopped on the summit of the Dantercepies to help me fix my chain. And he still is a stranger. Or that lovely lady atop the Duron who offered me her water flask without a moment's hesitation. And then, one more, that unlucky 'hero' who fell on the downhill ride from Monte Pana: the minutes spent by his side, keeping him company while waiting for the paramedics to arrive and his thanks are the most emotional memories from my HERO. Enough said.
ALESSANDRO MAIO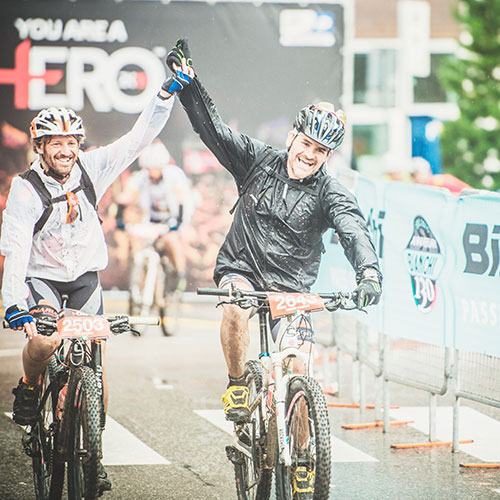 150 kg: in the past, that was the sole, irrefutable sentence that stared back at me from the scales. Appeal denied. My mirror reflected a shell of a person, sad, with no future prospects. Enough is enough. One morning I woke up and said to myself, 'I have to change… or else!'
Long walks didn't yield the expected results. One day, however, I stumbled upon a bike. My first bike.
The irony of the moment, a mountain of a man trying to ride a mountain bike, isn't lost on me, but I continued biking down this road. And with every day, I fall a bit more in love with this new world.
Then fate deals me a surprising hand: one day, I find a site that talks about the legendary HERO. The hardest mountain bike race in the world, the race par excellence, the most coveted one. I tap my finger on the screen and declare, 'I'll be there on the day!'
I talk about it with some friends and they advise me not to push myself too far. I don't know why, but I somehow find that inner 'strength' I never knew I possessed: I train more and more, and the idea of becoming a HERO guides me night and day.
Even the scales stagger in disbelief at the next accomplishment: I lose 80 kg in a year. Friends who coyly smiled at me when I talked about my projects now encourage me. I'm ready to conquer my HERO.
Then comes the day: my dream starts at 8 a.m. and ends 9 hours and 50 minute later. Now ask me if I'm happy – a few months ago my life was a bleak affair. Then, thanks to an article, everything changed. When I think about the HERO, all I want to say is a simple 'thank you'. It allowed me to change my life.
And now, here I am, for the third time in a row, and I smile at the idea of having rid myself of a heavy weight: unhappiness.
SANDRO CIAMPINI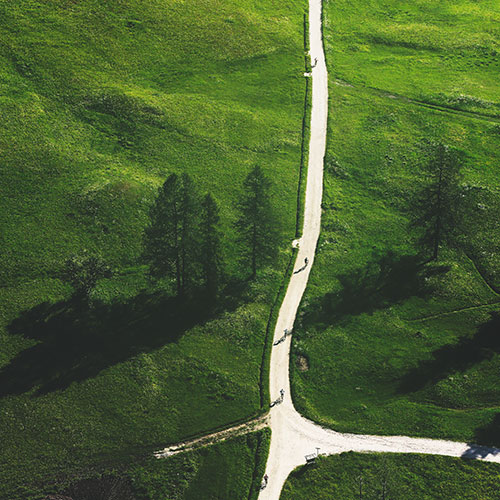 Should I compete in this race? It's up to you. Gabriele and Giulia are two smart kids, and they rush online to start looking it up. At 12 and 15, they're true internet whizzes. They stand dumbfounded in front of the Reinhold Messner video on the HERO website: breathtaking views, the music swelling in time with the story, bird-eye views, bikers, the race, its winners, and then the simple and clear words of this man, his gaze, his warm tone. My kids and wife have fallen prey to its spell. 'Yes, we're going' they declare.
The HERO is all anyone can talk about for the following months in our home. A race for me is never a solitary decision: it's always a family affair. It's actually quite easy to convince them: the location is perfect, and we decide to add a week's holiday to the event. In the run-up to the event, the kids keep watching the video until they learn it off by heart. Upon arriving in Val Gardena, a huge, black and red HERO banner welcomes us. Just like in the video. We start taking pictures of it as soon as we see it: outside cafes, shops, and hotels. Virtually everywhere. My kids' excitement grows with each passing hour. The whole programme is amazing, and includes HERO shopping and themed evenings. Bikers have come from all over the world and this makes me a winner in the eyes of my children, let's say a hero. The embrace below the race banner at the finishing line is our last snapshot.
We go back to our normal lives: work, school, home. In winter, when we normally organise our holidays for the next year, I suggest a beach holiday as, 'we haven't been to the sea in two years.' They all jump on board, but we can't seem to find one free week between July and August. June is the only option. 'And what about the HERO?' Gabriele and Giulia give a clear answer: 'We can't give up the HERO, we'll go to the beach another time.'
ERMANNO CAMPAGNARO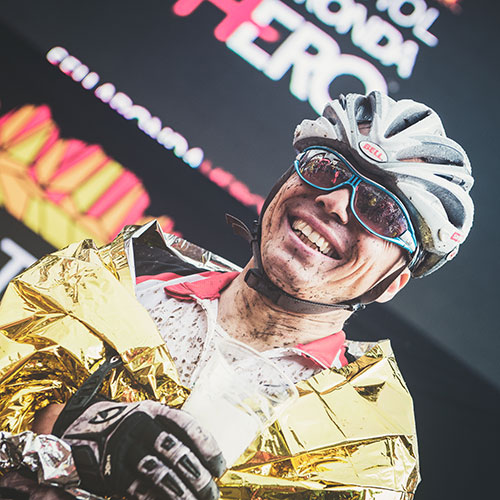 An emotional moment? Being there. A moment I'll cherish forever? Finishing it. A moment in the past? Becoming sick and having my immune system messed up. An everyday moment? Fighting and coming out on top.
My HERO takes place every day, it's a constant fight. Yet there's something magical about the real HERO, the one winding its way across the Dolomites. I started biking one year ago when I had little or no notion of what a mountain bike actually was. I approached things slowly and signed up for the short route. 'Better safe than sorry', I thought to myself.
I'm not one who's always sorry about himself, but this race had a special meaning to me. The virus I carry in my body weakens me, saps the energy I once had, and robs me of my physical strength. The result? I have to train a lot more than what I used to and than healthy people do.
Let's be clear: I don't want to come across as a whiny person, but the energy stored in my legs does run out earlier. My body has to leech the energy from my immune system – which works at 40% capacity compared to yours – when it's done with burning the sugar and fatty deposits in my system. I don't have any rivals in this race, I only have one enemy in my life: HIV. I carry it inside me during every competition. It's inevitable, really, like one of those unwanted guests you can never really kick out.
But who cares. I don't think too much about it. And so I crossed that finishing line with a smile, even better, I actually laughed out loud. In your face, HIV!
And this year I'll go for the longer route. Rather: we will go for the longer route. And my laughter will be even louder, you can bet on it!!!!!
MASSIMILIANO CAPOZZI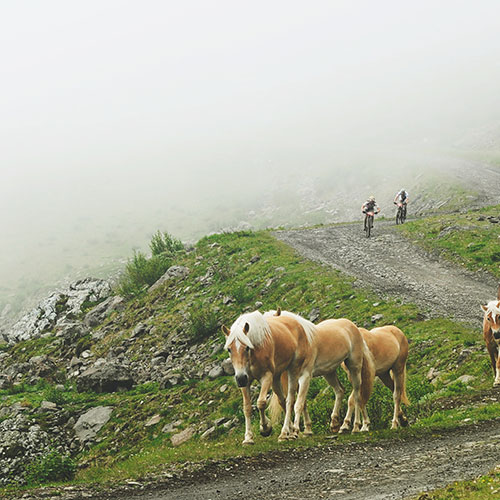 My HERO takes us back to 2014. I unadvisedly chose the long route and, not having trained enough, I finished the race in 8 hours and a half. You know what happens next, right?
'I'll come back next year and I'll do even better'. And back I come in 2015. This time I've prepared: I religiously followed the Mapei charts published on the HERO website, and it shows: I finish the race skimming one hour off my previous record. Satisfied? Maybe. Did I have fun? Not one bit.
Find out why in the following lines. Everything was going as planned: I cross Gardena and Campolongo in record time. The Porta Vescovo climb is up next, one of the most feared stretches of the race. I make it to the top.
Pordoi faces the same defeat as its predecessor. I'm ready to tackle the downhill ride to Canazei when… there, it happens. The front brake stops working. I start panicking, scared even. I try not to use the rear brake too much but soon, it too, stops working. Full panic mode now. I'm at the foot of the Val Duron. I ask myself how I will cope with the next downhill rides. 'I'll think of something, after all I've still got time to spare and it's not like I'll give up now…' I cross the next pass and slowly descend, experimenting with a braking system as old as time itself: the good old 'dragging my feet in the mud'. I'm overcome by utter disappointment. However, I don't give up just yet, 'I just need to cross the finishing line now'. Countless bikers overtake me at reckless speeds and tell me to watch out. 'Yeah, thanks a lot for that'. I descend towards Selva, sat on the bike's tube and dragging my feet as makeshift brakes. I finally cross the finishing line and, well, yes, I'm actually happy about it. They say I placed my head and arms on the handlebars and started crying. Maybe it's true. Anger and disappointment, happiness and pain. A mix of confused feelings. But it's not finished here. See you in 2016.
ALESSANDRO VIARINO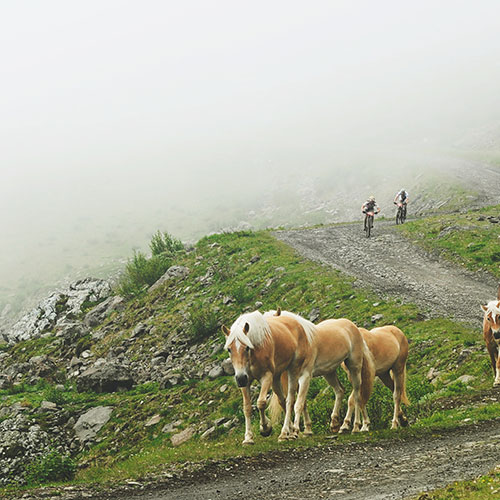 His name is Antonio Domizi, and at the Bikemotion in Terni we all think he's a great guy because he's jolly, generous, and happy-go-lucky chap. Despite his countless misfortunes, he's an incurable optimist and as tenacious as one can be! Antonio, however, is also very careful about not purposely jinxing anything. So you can imagine his reaction when one of the beautiful volunteers wished him 'Break a leg' upon handing him his race pack. That evening he was mocked by everyone but he didn't take it personally, always replying with a smile.
The next day at the race, it was the usual horsing about for us. As I'd signed up for the shorter route it was easy for me seeing everyone else coming in. Or nearly everyone else: Antonio was nowhere to be seen. 'That's strange. He should have been here by now.'
There he is! He's exhausted, even more than he should be.
'Why on earth is he so tired? Why isn't he sitting down…?' He didn't have a saddle, that's why! He biked the last 40 km (half of the race) without a saddle! Now that's a true hero!
On our way back home by car, Antonio was the true hero of our stories, and it was during that trip that an idea was born. Every autumn, to ring in the season and as an excuse to meet, we organise a social race with the participation of numerous local bikers. It's a short circuit, just a couple of km really, and the only rule is: no saddles allowed! Yup, you got that right. You need to remove your saddle to participate and… pedal like our Antonio did.
VALTER BALLARINI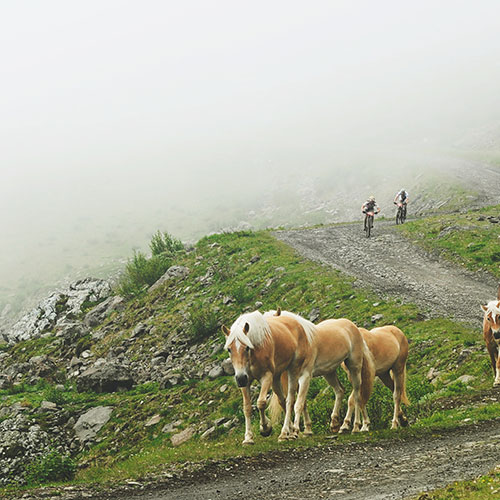 Back resting against the wall, my head is bowed between my knees. You can feel the discouragement rising in waves off me. Eliminated at the Arabba gate for just a question of two minutes. Two. Blasted. Minutes. I'm disappointed and somewhat humiliated. Eating my energy bar, I lift my gaze up to the sky and see the Dolomites peeking out from the clouds. I get up and in that moment decide my HERO would not finish here. I start biking again on the route even without my number bib. I look back and see some bikers catching up, as well as a figure outlined against a sheet of rain which won't seem to stop. 'I'll give up only if that biker catches up to me.' I give it my all for some minutes and then I feel him behind me… 'Now he'll overtake me and make some funny remark… well, it was good while it lasted.' The 'stranger' bikes up to me and says, 'Go on, we'll make it! Dead or alive, but we'll make it!' From that moment onwards we ride side by side, a 'team member' who appeared out of the blue and who accompanies me right to the summit. We finally learn each other's names. Stefano comes from Monza (I've never been there – it's not exactly close to Bari). He then explains to me what we've got to do 'Only the Passo Sella climb to go and then down we rush to victory!' He's got an infectious enthusiasm. Off we go. We spend an hour of pure suffering together: 4 km of burning agony! And then down to Selva where Adriana, soaking wet, welcomes me with a loving embrace. Stefano and I go on to become good friends and in 2015, two years after our meeting, we managed to cross the HERO finishing
RANIERO BARATTOLO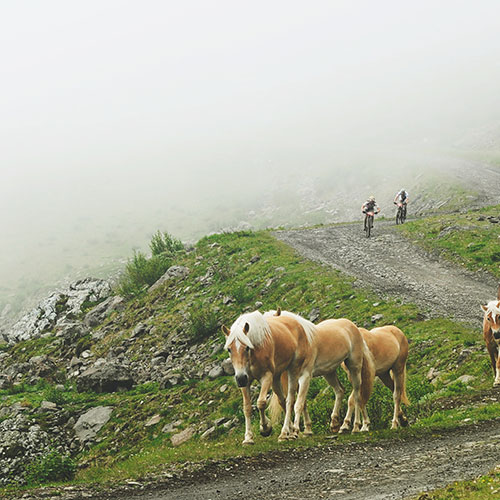 I remember the when, 2012, but not the where. I was leafing through a mountain bike magazine and my eye caught sight of this word: HERO. I'd never competed before, but at the end of the article I was raring to go. The HERO would be my first. I roped my brother and cousin along, and they took the challenge one step further. 'If we actually make it, we'll get tattooed together.'
They withdraw, I actually go ahead with it. No tattoo for us but we'll give it another shot the following year. On the day of the race, I open the window and grimace: the weather doesn't look too good. I finish breakfast, head up to my room and start organising my race kit. As I'm about to lock the door, my phone rings, 'Simone, you there. Nico has died.'
I return my racing bib and return to Bologna.
From that moment on, the HERO has become the day on which we celebrate our friend. I convince all of our friends to take part in the race back in 2014. The jersey in Nico's honour is a thing of beauty.
I promise him I'll finish the race just for him. Looks like 2014 was not going to be that lucky year: halfway through and I stop to wait for everyone else, so that we can cross the finishing line together… thing is, we were knocked out for going over the allotted time.
2015 was our year: I just knew it. I pack his jersey with mine. As the race starts, I know I'm in good shape: my legs pump away like there was no tomorrow. Nothing can stop me now: I need to keep my word. Slowly, push after push, I realise I'm not alone. I don't feel tired, and the clouds, after a brief shower, open up, letting the sunshine stream in. I put on his jersey before the last downhill descent and whoosh down to the finishing line. I'm overcome with emotion and the tears replace the sweat on my face. I cross the finishing line and realise we've made it. I was never alone on that day: my friend Nico was with me during all of the HERO.
SIMONE PETRUCCI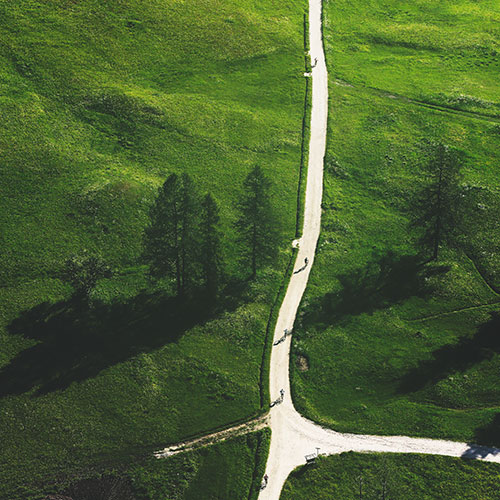 My knee seems to have a voice of its own as it whimsically decides whether to inflict pain upon me or not. One month to go and I've got a huge wart on my foot. I have to give up. Step back. This isn't normally like me, and the fact saddens me. No! I've got to give it a try. I pierce a sole to 'lodge' my wart and I only train once a week. Better than nothing. The night before the race I'm particularly tense: the HERO isn't only a mtb race, it's the race! I'm depressed: my leg hurts, my foot aches. I need to be alone. I walk around the village, when suddenly I see…
It stands still, proud in the middle of the tall grass on the hill. It spots me.
Its gaze meets mine. We observe each other for what seems like an eternity. Both still.
I'm not sure why but I start walking towards it. This can't be a chance meeting.
I leave my mountain bike behind and slowly make my way towards it. Getting closer. I'm just ten metres away when it suddenly dawns on me.
Dad is there with me. The hunter, respectful of all living creatures.
He's alive and there with me. That roe deer, appearing out of thin air, is the living proof.
'Off you go!' Its leap forward, strong and agile, fills me with joy. It dashes away into the tall grass, disappearing into the night.
I 'm still there, on that hill, lost in thought for hours, listening to the wind.
There's no excuses now: that animal helped me understand many things. Pain or not, I have to finish what I came here to do.
I complete the HERO in 10 hours and something.
I suffered, I cried and I probably cursed. But here I am.
Me, myself, and that gaze I met on that hill.
EMANUELE FREGOSI
---